Email from Katy ISD
March 5, 2021
Dear Katy ISD Parents/Guardians and Staff, 
Below is this week's Smart Restart eNews. More information about Katy ISD's return to school can also be found on the Smart Restart web page! 
*NEW* Spring STAAR & EOC Testing Schedule
Federal and state laws require that all eligible STAAR test takers be provided an opportunity to test. To ensure equity for all students, Katy ISD will administer the 2021 state assessments to all students, including KVA students, at the campus of attendance. All testing students should arrive at their campus by the start of the school day. Parents will receive more information from students' campuses regarding details for participating in STAAR assessments this spring.
To limit testing disruptions and to ensure safety measures are in place, certain grade levels of non-testing students will remain at home and engage in Intermittent School to Home instruction on STAAR testing days while other grade levels will continue with the normal school schedule.
For graduation requirements, students must meet standard on all five EOC subjects - English I, English II, Biology, Algebra I, and U.S. History to be eligible to graduate. Missing a STAAR EOC testing opportunity will potentially impact meeting the graduation testing requirement outlined by the Texas Education Agency (TEA). Further, students must attempt to test to be eligible to utilize substitute assessments and/or graduate by Individual Graduation Committee (IGC).
Students enrolled in self-contained specialized programs will be permitted to attend class on campus.
KVA Students- STAAR/EOC Testing Information
KVA students may ride district transportation to and from their campus on their scheduled campus STAAR administration day(s). KVA parents may pick up their KVA students to transport home prior to the end of the school day. KVA students may opt to stay at the campus and ride the bus home after school hours; however, students will be placed in a large room setting after the assessment.
KVA testing students are eligible for meals served on the scheduled STAAR administration days.
Students are required to follow all COVID-19 safety protocols including the wearing of a facial covering when on campus and participating in the STAAR assessments.
Students will report to their home campus on the specific testing days as noted by the home campus. Eligible test takers who do not participate in testing will have an answer document submitted which will reflect this decision.
STAAR, EOC- Absences
TEA requires public school districts to mark a student absent if they are not present to participate in a state assessment. However, should a parent choose to not send their in-person or virtual student to school to take a state assessment, there are no academic consequences and no expectation for students to engage in virtual instruction for being absent on an assessment day.
If you have questions regarding STAAR administration, please contact your child's campus administrator or counselor. Please see the following charts for the state assessment schedule.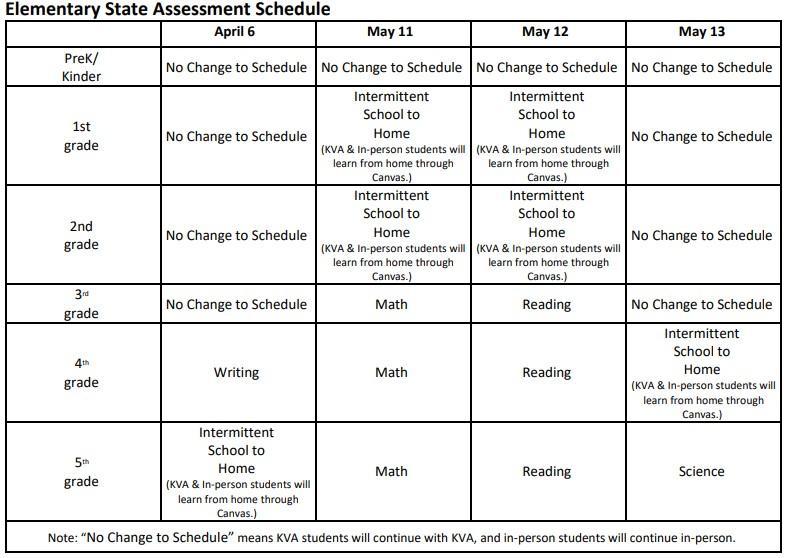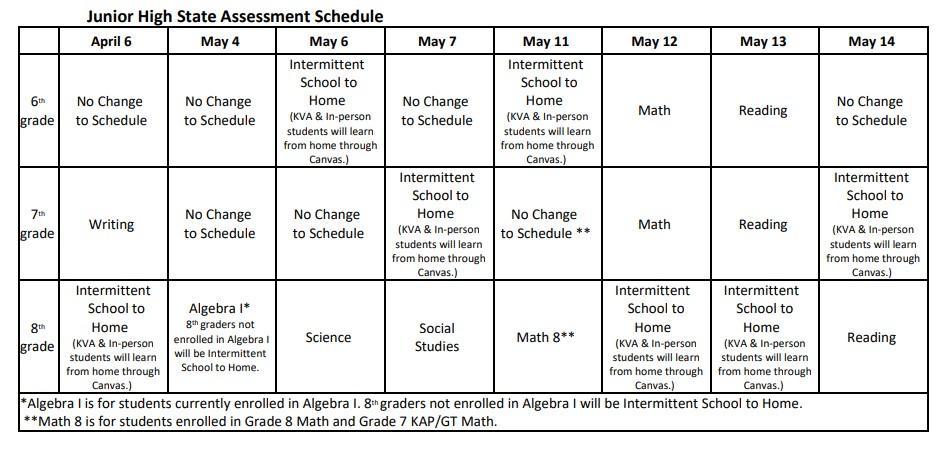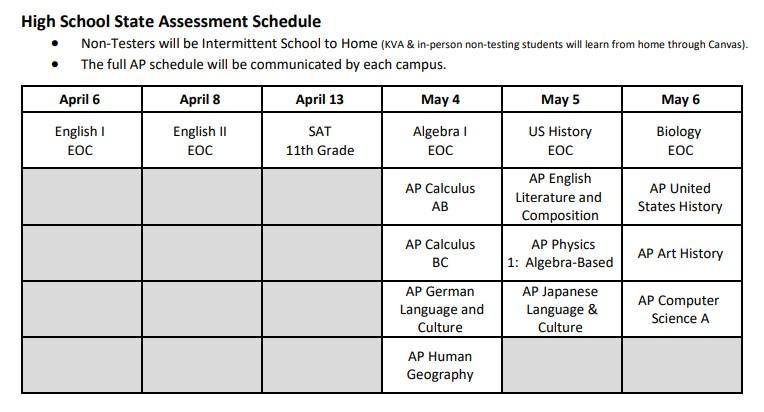 *NEW* Class of 2021- Proms, Graduation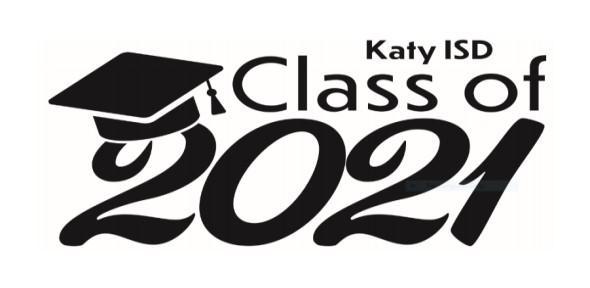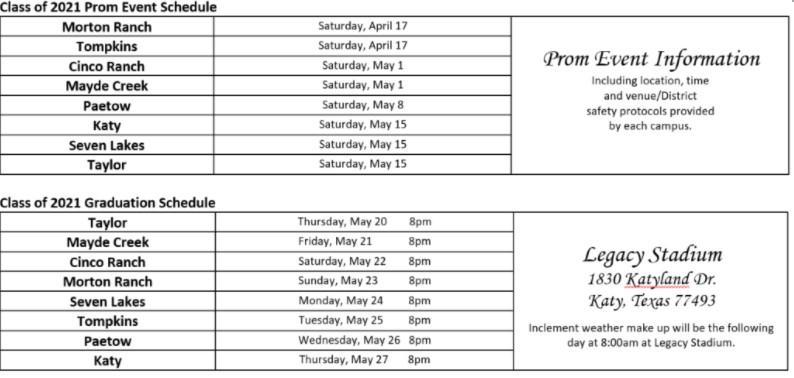 *NEW* Legacy Parent Academy March 24th "Managing Test Anxiety"
Our final Legacy Parent Academy will take place on Wednesday, March 24th from 6:00-7:00. As state assessment time approaches, our panelists will cover the important topic of "Managing Test Anxiety." Anxiety is a typical part of our everyday lives; however, many students feel particularly worried around our state assessment season. The goal of the session will be to provide parents and caregivers with tips and strategies to help students manage anxiety around test taking.
When: Mar 24, 2021 06:00 PM Central Time (US and Canada)
Topic: Legacy Parent Academy Managing Test Anxiety
https://katyisd-org.zoom.us/j/86314347802
Passcode: Mar24LPA
*NEW* Secondary Window Opens Monday, March 8! This is the FINAL opportunity to change for the school year
Spring Opt-In for KVA or In-Person Learning
Please visit your child's campus web page to find the link that will allow you to change his/her learning platform for the next grading period. The spring "Opt-In Windows" for Katy Virtual Academy (KVA) or In-Person/Face to Face learning for the second semester are:
Secondary Window for the 6th Six weeks
Opens March 8 – closes March 29; Six weeks begins on April 12
Elementary Window
Closed
*Updated* Katy Summer Academic Term (KSAT) Information
Secondary High School Credit Recovery & Junior High Course Recovery summer registration opens on April 12. KSAT for credit and course recovery are schedule from June 7 – July 1, Monday – Thursday.
Beginning April 12, students may register and elect to take the summer recovery courses virtually with in-person teacher support and remediation. At the time of registration, a student will be prompted to select one of the following in person lab days/times for in person teacher support:
Monday and Wednesday 8:30 AM – 11:30 AM
Monday and Wednesday 1 PM – 4 PM
Tuesday and Thursday 8:30 AM – 11:30 AM
Tuesday and Thursday 1 PM – 4 PM
Elementary students eligible for summer school programs will be contacted directly by their respective home campuses in May 2021 via an invitation to attend an eligible program.
Transportation and meals will be available for KSAT participants.
*NEW* Pre-K Registration Coming Soon
Online registration for the Katy Independent School District Pre-Kindergarten program for the 2021-2022 school year will open April 1, 2021. Parents must complete the online registration process through Katy ISD's PowerSchool Registration website in order for their child to be screened for program eligibility.
The Katy ISD Pre-Kindergarten program follows the state Pre-K guidelines which focus on oral language development, reading and math readiness, as well as science and social studies knowledge and skills. Click the Katy ISD Pre-Kindergarten program link for a list of eligibility requirements or call the Office of Interventions, at 281-237-7062.
Pre-Kindergarten classes will be held at the following campuses:
English Speaking Classes: Alexander, Bear Creek, Bethke, Bryant, Campbell, Cimarron, Creech, Davidson, Exley, Franz, Golbow, Griffin, Hayes, Holland, Hutsell, Jenks, Katy, Kilpatrick, King, Leonard, Mayde Creek, McElwain, McRoberts, Morton Ranch, Nottingham, Pattison, Randolph, Rhoads, Rylander, Schmalz, Shafer, Stanley, Stephens, Sundown, West Memorial, Wilson, Winborn, Wolfe, Wolman and Wood Creek elementary schools.
Spanish Speaking Classes: Bear Creek, Campbell, Fielder, Franz, Hutsell, Jenks, King, McRoberts, Memorial Parkway, Morton Ranch, Rhoads, Schmalz, Stephens, Sundown and Williams elementary schools.
Emergency Aid for Texans
FEMA announced federal emergency aid for the state of Texas affected by the severe winter storm. Individuals and business owners who sustained loses in the designated area can begin applying for assistance by registering online at http://www.DisasterAssistance.gov or by calling 1-800-621-3362 or 1-800-462-7585 TTY.
Assistance can include grants for temporary housing and home repairs, low-cost loans to cover uninsured property losses and other programs to help individuals and business owners recover from the effects of the disaster.
Displaced Students Assistance
The McKinney-Vento Homeless Education Assistance Act provides immediate enrollment and education stability for displaced and homeless children and youth. District staff are in the process of reaching out to families to connect them with supports and information available through the Act. Families who may have been displaced by the recent winter storm are encouraged to complete a Student Residency Questionnaire- ENG or Student Residency Questionnaire- SPA, and email it to SRQ@katyisd.org, or call 281-396-2612. Additional information about the Act can be found here.
Student Transfer Application
The District Student Transfer application for the 2021-2022 school year will open on Monday, March 1, 2021. Students who are currently on a transfer must submit their requests by Monday, May 31, 2021. Failure to submit a transfer application by the deadline will revert your child(ren)'s campus assignment to their home zoned campus and may impact courses selected for the 2021-2022 school year. The transfer application is located on the Katy ISD Student Transfers webpage: Student Transfers. Contact the transfer office at 281-396-2357 with questions.
SAT School Day Administration Information
As a reminder, the 11th grade SAT School Day administration that was scheduled for Wednesday, March 3 was rescheduled by College Board to Tuesday, April 13, 2021.
The intermittent school to home virtual learning plan for 9th, 10th and 12th grade students is rescheduled to Tuesday, April 13. If you have any questions regarding the administration of the SAT, please contact your child's campus administrator or counselor.
Grab and Go Free Meal Sites
All curbside Grab and Go meal sites operate on Tuesdays and Thursdays only. Patrons can pick up breakfast and lunch for Wednesday and Thursday on Tuesdays, and meals for Friday, Monday, and Tuesday, on Thursdays. Meals are ready to heat and eat at home.
Curbside Grab and Go is available at: Morton Ranch High School, Mayde Creek, Cinco Ranch, Tompkins and Katy high schools from 4 – 6 p.m., Tuesdays and Thursdays. Meals are available at no cost to all children 18 and under. If parents are picking up meals for their children and the children are not present, identification for each child such as an ID, report card, or birth certificate must be presented prior to receiving the meals.
Students enrolled in in-person learning at their home campus are not eligible to receive curbside Grab and Go meals. Receiving the same meal at multiple campuses on the same day is not permitted.
COVID-19 Safety Protocol Updates
Continued Campus Phase 2 Safety Protocols
Katy ISD Campus Phase 2 Safety Protocols took effect March 2. Please visit the Katy ISD "Smart Restart" webpage to review the District COVID-19 Mitigation Plan.
Click the below image to access Katy ISD COVID-19 Resources or visit the Katy ISD Smart Restart webpage for information on:




Student Mask/Face Covering/Face Shield Requirements are available on page 6 of the Katy ISD COVID Mitigation Plan.
COVID-19 FREE Testing Site
The district's testing site service is FREE to all Katy ISD enrolled students and employees. The regular site hours are Monday- Friday, 7:00 a.m. to 4:00 p.m. and Saturdays, 8:00 a.m. to 12:00 p.m. Students may schedule an appointment via the Student Testing Appointment Scheduler.
Employees do not require an appointment to be tested for free, though are requested to arrive at least 30 minutes before the posted closing time, to abide by the facilities schedules. Employees' dependents who are not on their Katy ISD insured parents' health care plan may elect to pay the $125 fee to test with their parents at the site, or if the child is a Katy ISD enrolled student, he/she may schedule an appointment through the Student Testing Appointment Scheduler, and test for free.
The COVID-19 rapid testing site is located at the District's Agricultural Sciences Center at 5801 Katy Hockley Cut-Off Road.
Secondary Information
Secondary Course Selection
The Secondary Online Course Selection Timeline has been adjusted due to the weather event. Campus specific information will be communicated via the means in which your campus sends information to families. Information will include where to find course information, presentations, and how to complete each step. Course selections will be visible in HAC will be visible after March 31st.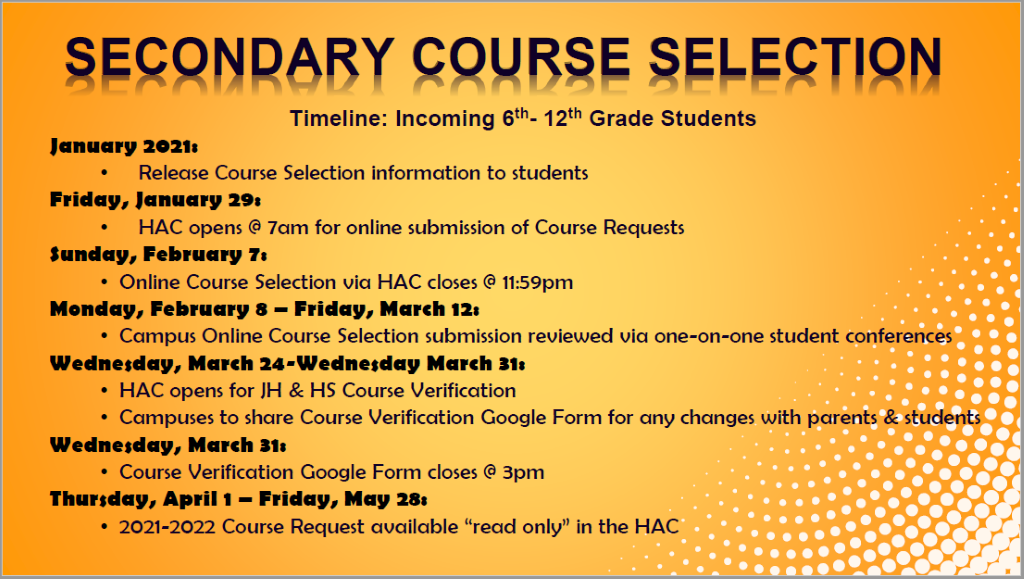 For questions in regards to the courses selected for next year, please contact your campus counseling office.
Katy ISD Fine Arts Department Updates
UIL Performance Season! In the coming weeks the fine arts programs will begin their spring UIL performances, competitions and evaluations. We wish all these students and directors the best during these important benchmark events.
On Saturday, March 6, our 5A theatre programs will be performing their UIL One Act Play District Competition in College Station and on Saturday, March 13 our 6A theatre programs will perform at their District UIL One Act Play Competition at Tompkins HS.
The district JH Choirs will be performing either live or virtual at the UIL Region Concert & Sightreading Evaluation at Paetow HS on Tuesday, March 9 or Wednesday, March 10.
The district showcase event Crossroads, will be held on Tuesday, March 23 in the Merrell Center. This event showcases all the high school dance classes across the district. Performances will be held in two flights, the first performance group will begin at 5:30 p.m. and the second performance group will begin at 7:15 p.m.
After the great success of our first ESC Virtual Gallery this Fall, the Fine Arts Department is happy to announce we have opened another gallery for the Spring semester. This online gallery features over 500 pieces of art created by our students from pre-kindergarten through twelfth grade. Please take a moment to view the fantastic artwork that is being produced across the district.
https://tinyurl.com/ESC-Spring-2021-Gallery
High School Art students across the district will have artwork adjudicated at the TAEA 4W Visual Arts Scholastic Event (VASE) on Saturday, March 6. This year's VASE event is virtual.
Technology Help Desk Contacts for Parents/Students Support Inquiries
Online:
Parent and Student Technology Support Important Links
Katy ISD
#KatyStrong